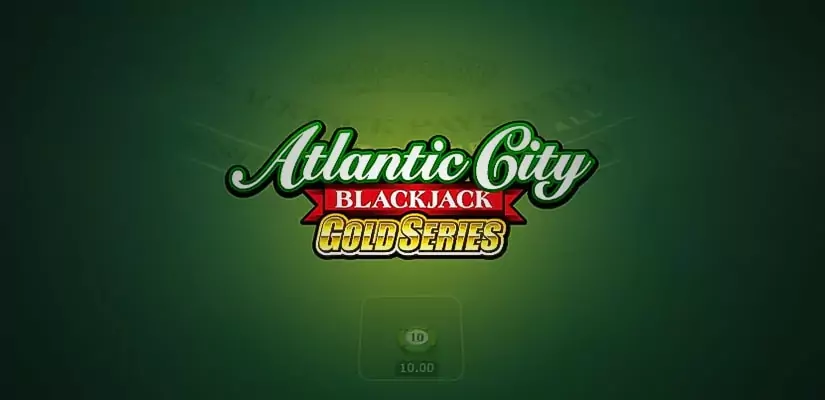 The favourable rules and low house edges at the blackjack tables in Atlantic City have been a thing of the past for decades now but, thankfully, Microgaming brings the same player-friendly conditions to the screens of your desktop and mobile devices with its rendition of Atlantic City Blackjack.
As part of the studio's Gold Series of table games, this 2006 release ensures an improved playing experience with its enhanced graphics and customisation features. The game is available for both single-handed and multi-handed play at UK casinos that run on the Microgaming software platform. Eager to learn more? Continue reading for in-depth information on this slick blackjack variation.
Atlantic City Blackjack at a Glance Summary
Provider
Microgaming
RTP
99.65%
Minimum Bet
£1
Maximum Bet
£200
Deck Number
8 standard decks
Blackjack Payout
3 to 2
Dealer Standing Rules
Stands on all 17
Resplit
3 times to up to 4 hands
Surrender
Late surrender
Insurance
Available, pays 2 to 1
Exposure
The dealer takes a hole card
Jackpot
N/A
Rules of Atlantic City Blackjack
This Microgaming release is an American hole-card variation of 21 with a promising ruleset that reduces players' negative expectation to the minuscule 0.35% with basic strategy. Atlantic City Blackjack is dealt out of an 8-deck virtual shoe. The dealer takes hole cards and stands on both hard and soft 17.
Insurance is offered to the player at the start of a round whenever the dealer begins a hand with an ace. Winning insurance bets pay at the usual house odds of 2 to 1. The availability of late surrender is one of the biggest attractions here.
In Atlantic City Blackjack, the player is granted the option to forfeit their starting hand after the dealer checks their hole card for a natural when showing either a ten or an ace and all insurance wagers are resolved.
It only gets better from here since this Microgaming release enables you to double down on any first two cards regardless of their total. Doubling down after pair splits is also allowed. Speaking of pairs, players can split three times to create a maximum of four hands.
One exception to this rule is made for paired aces – they cannot be resplit or receive a third card once split. When a court card or a ten falls next to a split ace, this is not considered a blackjack. The player gets paid even money unless their 21 pushes with the house or the dealer prevails with a blackjack. Player-blackjacks pay at the standard odds of 3 to 2.
Special Features of Atlantic City Blackjack
As fans of online blackjack ourselves, we greatly appreciate the effort Microgaming's developers have invested to render this variant as realistic as possible. The graphics and animations are on par and so are the audio effects. This further improves the ambience of Atlantic City Blackjack.
All the rules are clearly laid out – you can see them if you hover your cursor over the plaque with the minimum and maximum bets. Players who find the sound effects distracting can switch them off from the settings panel. The same applies to the advanced sounds and the background sounds.
Several interesting gameplay settings are incorporated, allowing for further customisation. The Auto-Rebet feature is ideal for players who are averse to varying their wagers and prefer to flat bet instead. When activated, this feature causes the software to automatically bet the same amount you put at stake during the previous round.
Another feature players can take advantage of is the Quick Deal function. This would increase the speed of card dealing and bet settling but you might end up losing more money if you play at this dynamic pace. The speed settings give you a choice from the following options – slow, medium, fast, and fastest.
Autoplay is also included for those looking to play a given number of consecutive hands automatically without having to interact with the gaming controls. This feature is accessible only in Expert Mode, which, in turn, is unavailable in the demo version and requires you to play for real money.
Conclusion
Atlantic City Blackjack by Microgaming is a must-try variation for all fans of 21 who mourn the removal of the player-favourable playing conditions from "America's Playground". The studio released a new and revamped version of this classic in October 2020. The new version was created in partnership with the independent developer Switch Studios. Check it out if you are a fan of the classic Atlantic City Blackjack from Microgaming's Gold Series.