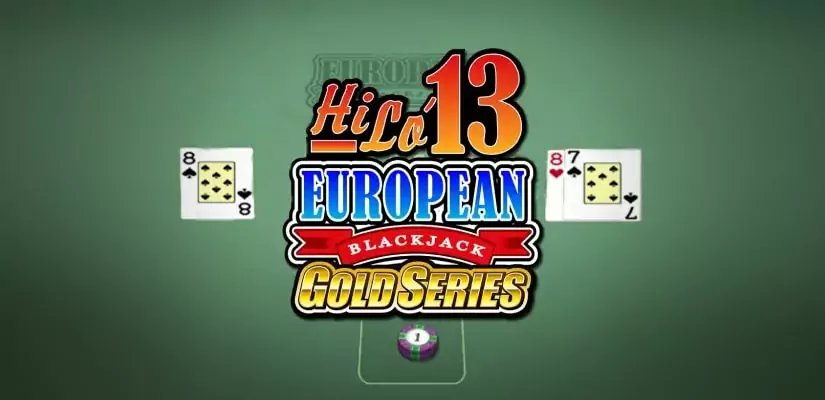 Blackjack fans, who crave to experience the luxury and glamour of the landbased casino floor, can achieve it from the comfort of their surroundings thanks to gambling software heavyweight Microgaming. In June 2009, the acclaimed studio released Hi Lo 13 European Blackjack Gold as part of its highly authentic Gold Series of table staples.
The highlight in this sophisticated European-style game is the group of Hi Lo side wagers on the total of the player's first two cards being higher, lower, or equal to 13. Not familiar with these proposition bets? If so, this Best Casino Sites review can give you all the details you need to start playing the game confidently for real money.
Hi Lo 13 European Blackjack Gold at a Glance
Provider
Microgaming
RTP
99.60%
Minimum Bet
£1
Maximum Bet
£200
Deck Number
2 standard decks
Blackjack Payout
3 to 2
Dealer Standing Rules
Stands on all 17
Resplit
N/A
Surrender
N/A
Insurance
Pays 2 to 1
Exposure
No hole cards are in play
Jackpot
Max payout of 10 to 1 for winning side bets on 13
Rules of Hi Lo 13 European Blackjack Gold
The uncomplicated gaming interface makes locating the rules of Hi Lo 13 European Blackjack Gold a piece of cake. The game sticks to the standard ruleset, inherent to most European-style variants of blackjack. To begin with, no hole cards are dealt to the dealer who draws their second card at the very end of the round.
This peculiarity makes it impossible for the dealer to check for blackjacks in advance. It also leads to a 0.11% drop in players' expectation. If the player busts, the virtual dealer wins the round by default and does not draw a second card to complete their hand. The fixed house rules of the game require the dealer to stand on soft hands that total 17.
The game is played with 2 full French decks of 52 cards each. Untied blackjacks pay 3 to 2 whereas winning insurance bets offer a payoff of 2 to 1, as usual. The double-down play is limited solely to hard totals of 9, 10, and 11.
Players cannot double down if they have split a pair before that. As for splitting, you are entitled to this play only once per round to make no more than two hands. The game compensates by allowing you to draw more than one card on split aces. Surrendering is not an option in this blackjack variant.
Features of Hi Lo 13 European Blackjack Gold
The number 13 is considered unlucky in many cultures, a belief related to Judas Iscariot, Jesus' betrayer, being the thirteenth person to arrive at the Last Supper. In Hi Lo 13 European Blackjack, however, 13 may prove to be your lucky number if you play the exciting side bet incorporated into the game.
To the right of the main betting box, you will notice three additional betting spots. This is where you place the chips for the Hi, Lo, and 13 side wagers. Their limits range from £1 to £25. The Hi and Lo side bets are successful whenever the total of the first two cards dealt to your hand is greater or lower than 13. Both pay at odds of 1 to 1.
The largest payout of 10 to 1 in the game goes to the player who backs 13 and their initial card total adds up precisely to this number. There are several other peculiarities about these side wagers players need to be aware of.
For instance, you cannot play only the side bet on its own. The additional betting options become available to you only on condition you have first made a regular wager. The aces lose their flexibility for the side bet and count as 1 rather than as 1 or 11 as is the case in the main game.
Other than that, Hi Lo 13 European Blackjack Gold has several nice features you can use to tweak the game according to your personal needs. You can set the pace of the gameplay to slow, medium, fast, or fastest. Auto-rebetting and autoplay are also included in the Options menu.
Conclusion
Hi Lo 13 European Blackjack Gold is broadly offered by all credible gambling sites that implement the Microgaming software. If this Best Casino Sites review has sparked your interest, feel free to give the variation a go in some of the UK-licensed casinos on our shortlist. Remember the side wagers are not compulsory – you can skip them if you find it impossible to stomach their higher house edge.