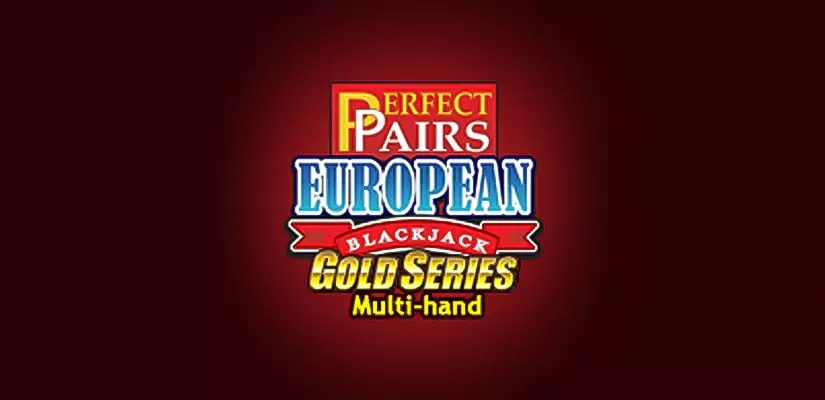 Multi-Hand Perfect Pairs Blackjack Gold is a Microgaming release that plays under the European set of blackjack rules and pays extra for optional side bets on paired two-card hands. The maximum players can extract from this game is a payoff at odds of 30 to 1, awarded for a suited pair.
As you can tell by the name, here you have more betting opportunities as the variation allows you to play a maximum of five positions at the same time. The same goes for the Perfect Pairs side bet, which means you can place a total of ten wagers within a single round. Continue reading for more information on this enticing Microgaming blackjack variation before you head off to play for real money.
Multi-Hand Perfect Pairs Blackjack Gold at a Glance
Software
Microgaming
RTP
99.60%
Min Bet
£1
Max Bet
£200
Number of Decks
2 regular decks of 52 cards each
Blackjack Payout
3 of2
Dealer Stand
Stands on all 17
Re-split
N/A
Surrender
N/A
Insurance
Pays 2 to 1
Exposure
No hole cards
Jackpot
30 to 1 for Perfect Pairs (requires a side bet)
Rules of Multi-Hand Perfect Pairs Blackjack Gold
If you leave the side bets aside, this Microgaming multi-hand variant pretty much follows the standard rules of European no-hole-card blackjack. There are two regular French decks in play, which makes it possible for the player's starting hand to consist of two suited cards of the same denomination like two deuces of spades, for example.
The dealer must stand on soft 17 but does not peek due to the absence of hole cards. Doubling is possible on any two cards whose value adds up to 9, 10, or 11 but this move is disallowed after the player has split a pair. Soft doubling is also unavailable, which causes a further drop in the players' expected value.
You can split any pair you like as long as it does not consist of two unlike ten-value cards. However, this restriction is nothing to cry about since basic strategy players never split tens by default. Speaking of basic strategy, this is the only approach you can use to reduce the house advantage in this game.
The software shuffles the two decks after every single round so you always start from a fresh deck. Similarly to the rest of the European variations from Microgaming's blackjack suite, this one also enables players to draw multiple cards to split aces. However, a split ace next to a ten counts as a regular 21 rather than as a blackjack.
Features of Multi-Hand Perfect Pairs Blackjack Gold
The main attraction in Multi-Hand Perfect Pairs Blackjack Gold is the Perfect Pairs group of side wagers. You must place the side bets before any cards are dealt to your hand. You can play only the optional wager if you like without the obligation of posting a regular bet. The limits for the side wager are significantly lower than those in the main game.
Players can put £1 to £25 at stake and play as many as 5 side bets at a time. The winning criteria are simple – you receive a payout whenever the first two cards dealt to your hand are paired. How much you get depends on the pair. Mixed pairs pay out 7 to 1 while coloured ones return at odds of 15 to 1. The highest prize of 30 to 1 is awarded for a "perfect" pair, which contains two cards of the same suit and denomination.
Multi-Hand Perfect Pairs Blackjack Gold has an easy-to-use gaming interface. We believe you will experience no issues playing the game even if you are a first-timer. You can adjust your wager by using the sliders next to the chips at the bottom of the layout. The available chip values include £1, £5, £10, £25, £50, £100, and £200.
The real-money version of the game gives you access to advanced features like the statistics panel and Expert Mode. The Options menu allows you to deactivate all sounds, including the jazzy music playing in the background and the dealer's voice. You can also activate the Auto-Rebet and the Quick Deal features from here.
Conclusion
With Multi-Hand Perfect Pairs Blackjack Gold, Microgaming delivers yet another graphically impressive online variation of 21. This game is perfect for blackjack fans keen on playing side bets. Before you give them a try yourself, we would like to warn you the Perfect Pairs wagers have a reduced theoretical player return percentage. Feel free to experiment with them every once in a while whenever you feel lucky but not too much since they can quickly drain your blackjack bankroll.