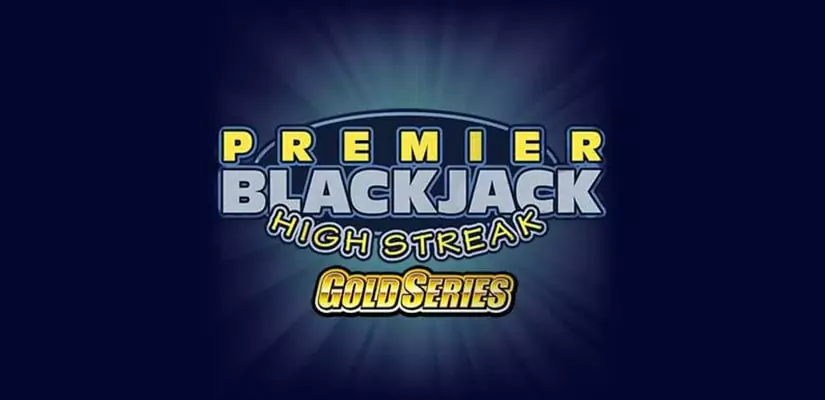 Fans of the game of 21 will be more than pleased with Premier Blackjack High Streak Gold. This Microgaming variation is easy to play as it incorporates the standard rules of the card game. Despite that, thanks to its special features, this variation offers a very high RTP. Being a part of the Gold series, Premier Blackjack High Streak entices with a superb quality of graphics and sound effects. Expert players will appreciate the feature that allows using a strategy but that does not mean that recreational players cannot have a wonderful time playing this blackjack variant. The game also allows players to make a side bet that can turn out to be very generous.
Premier Blackjack High Streak Gold Summary
Software
Microgaming
RTP
99.59%
Min Bet
1
Max Bet
200
Number of Decks
2
Blackjack Payout
3:2
Dealer Stand
Dealer stands on all 17 or higher
Re-split
No
Surrender
No
Insurance
Yes
Jackpot
N/A
Rules of Premier Blackjack High Streak Gold
Whether you are a rookie blackjack player or you have been playing the game for a long time, you will have no issue playing Premier Blackjack High Streak Gold. To make the play even easier, there is a section that shows all of the basic rules to keep in mind while playing the game.
The game uses 2 standard decks with 52 cards and no peeking is allowed. Like in any blackjack variation, here, the goal is to beat the dealer's hand by coming closer to the total of 21 without going bust. If you draw an Ace and 10-value card, you will enjoy the payout of 3 to 2 for a blackjack.
The dealer stands on all totals of 17 or higher. It is possible to double down on hard 9, 10 or 11. After you double down, you will receive an additional card and your hand will stand automatically. You cannot, however, double down after a split.
You can split any two cards of the same denomination but you are not allowed to split different 10-value cards. After you split Aces, if you draw a card with a value of 10, the hand will count as a total of 21 and not as a blackjack. The same applies to split 10s and a drawn Ace. Players are allowed to split only once, allowing them to play with a maximum of 2 hands. You can draw multiple cards to split Aces.
Special Features of Premier Blackjack High Streak Gold
To make the gameplay more interesting, Premier Blackjack High Streak Gold incorporates several special features that can make the entire experience more thrilling and fun. Whenever the dealer shows an Ace, the player can make use of an Insurance bet. This type of wager will cost you half of your original stake, paying 2 to 1 if the dealer ends up having a blackjack. Provided there is no dealer blackjack, you will lose your Insurance bet and the game will continue the usual way.
This blackjack variation also allows players to make a side bet that can be very generous towards lucky players. While the side bet is optional, you must make your standard bet to be able to place a side wager. strThe payout that you will enjoy depends on the number of consecutive wins that you can accumulate. Every winning hand that follows another win will help you advance in the High Streak area and enjoy a bigger potential bonus win.
You will continue playing the High Streak bonus game until you experience a loss. The High Streak bonus is activated when you experience a second consecutive win. The Second Streak offers a payout of 1 to 1, the Third Streak pays 2 to 1, the Fourth Streak will ensure a payout of 5 to 1, and the last Fifth Streak pays 10 to 1. When the High Streak round is activated, a deal that results in a push will leave the side bet chips on the same position and will move up only if the next game results in a win for the player.
Conclusion
Players can expect nothing but a great casino experience when they play Premier Blackjack High Streak Gold. Microgaming has made sure that every type of blackjack fan can have a thrilling adventure with this game. Those who are willing to take some risks can also make a side bet and enjoy bigger payouts with every consecutive win.