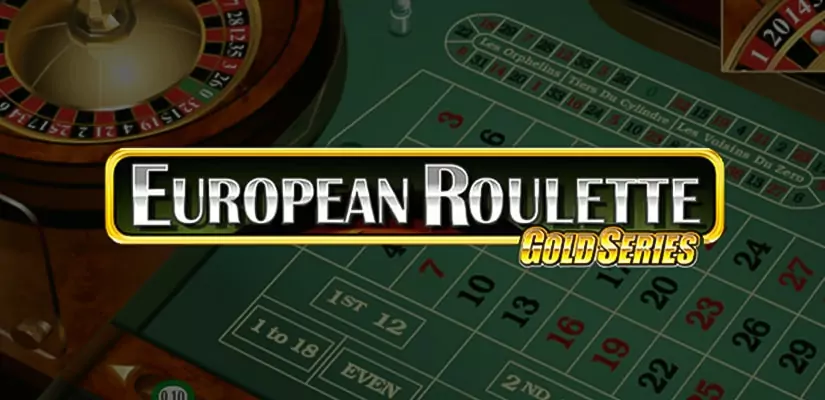 If you are a fan of European Roulette, you are going to absolutely love Microgaming's European Roulette Gold. This one has 1 wheel, 1 ball, and an attractive RTP of 97.30%. With a betting range of £1-£500, players are in for a treat with this one.
European Roulette Gold boasts excellent graphics and engaging sound effects that could fool any player into believing they were actually in a land-based casino. Another great thing about this title is the single-screen layout, making it all the easier to enjoy this thrilling game.
European Roulette Gold Summary
Software
Microgaming
RTP
97.30%
Minimum Bet
£1
Maximum Bet
£500
Numbers
0-36
Wheels
1
Balls
1
Bets and Payouts of European Roulette Gold
This European version of roulette brought to players by Microgaming is extremely easy to play once you get the gist of things. Players will see the standard 37-pocket wheel that is divided into 18 red, 18 black, and the single green 0.
To place bets, gamblers must first select a chip with the value they wish. Then, they must click on whatever inside or outside bet they wish to make. The chips available range from £0.10 to £100.
Players will find both inside and outside wagers available to them, all with the typical payouts for European Roulette. For Straight bets, players can expect a 35:1 ratio, while a successful Split stake will award 17:1. A Street wager will bring 11:1, and a Square will bring 8:1. To finish it off for the inside ones, players can win 5:1 for a Line bet.
Both Dozen and Column bets will award players with 2:1 for a winning outcome. An Even-Money wager will bring the usual 1:1. Players will also be able to place neighbouring stakes which allows them to gamble on 5 neighbouring numbers simultaneously.
Additional Features of European Roulette Gold
There are some fun features incorporated into European Roulette Gold to help enhance players' gaming experience. One of those intriguing attributes is the expert mode available to gamblers who feel confident in their capabilities to use this mode.
This is a function that allows experienced players to save customised bets instead of using the standard form that is already incorporated into the game. Players are enabled to save up to 8 different patterns at a time, but they may also enter and edit them at any given time.
One of the specific features we dig in Microgaming's European Roulette Gold is the excellent graphics and the single-screen layout. We really feel that the creators of the game really achieved that authentic casino feel.
As for gameplay features, players will find all the usual helpful attributes that help enhance the overall gaming experience. You can rebet the previous turn if you are feeling especially lucky. If you accidentally placed a chip in the wrong place, you can simply select the clear bets button which is next to the spin one.
There is also a little window that is visible during all times that shows recent number history. Next to it is the window with players' bets and wins if there are any. You will also be able to open the separate pop-out window that consists of game statistics. Here, players can find bet history, can follow percentages of both inside and outside bets, see all previous spin results, bet placed, and so on.
Conclusion
European Roulette Gold is another terrific addition to the Microgaming portfolio. We must commend them on their crisp graphics, as usual. Players will enjoy the engaging sound effects and realistic features that are incorporated into the game's works. Another thing you are sure to enjoy is the customised bets you can coordinate using the expert mode.