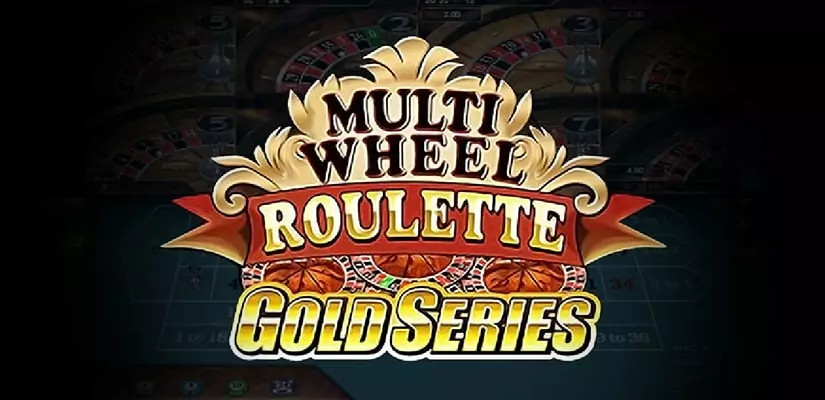 Multi Wheel Roulette Gold is based on European roulette. This means that the house edge of the game is quite low. As the name implies, this variation of the exhilarating casino game is played with multiple wheels. More precisely, there are 8 of them to try your luck out on.
This exciting Microgaming title has a wide betting range that allows players to place various sized stakes. Multi Wheel Roulette Gold is perfectly suitable for both professional gamblers and recreational ones. The crisp graphics and soothing background music help create the ultimate gaming experience.
Multi Wheel Roulette Gold Summary
Provider
Microgaming
RTP
97.30%
Minimum Bet
£1
Maximum Bet
£80
Deck Number
37 per wheel
Wheels
8
Balls
1 per wheel
Bets and Payouts of Multi Wheel Roulette Gold
Players that are used to the European format of roulette will find the betting system and payouts easy to grasp. As is typical for this style, the wheel has only a single zero with 18 odd and 18 even numbers. Another familiar trait for this variation is the availability of inside and outside bets.
A successful Straight Up bet will bring players a prize of 35:1, whereas a Split will bring players the traditional 17:1. Players that are acquainted with European roulette and the typical outside bets. You can wager on black/red, odd/even, high/low. All of these options have odds of 3:1.
When playing Multi Wheel Roulette Gold, players will be placing bets on 8 wheels. This means that every time you put a certain value chip on a number, 8 times the chip value is being staked.
While the 8 sets of wheels may seem intimidating, there is really nothing to be worried about. Only having your chances of winning being multiplied by 8. Add that to the attractive RTP of 97.30% and players have a good shot at winning some big money.
Additional Features of Multi Wheel Roulette Gold
The main feature of this exciting roulette title is quite obvious – the multi wheel function. That is not to say, however, that a player absolutely must bet on all 8 wheels. You are enabled to select the number of wheels you place your bets on with every single spin. All you have to do to disable a wheel is hover the mouse over it. When you do so, you will see white writing informing you that you may turn off the stakes on this wheel simply by clicking it.
Another great attribute in this Microgaming title is the availability of racetrack bets. You will find it by clicking on the arrow just below the bottom right-hand corner of the 8th wheel. This feature allows players to wager on specific neighbouring numbers on the wheel.
Skilled roulette fans that are confident in their abilities will be pleased to hear that expert mode is also available on this thrilling title. This feature allows players to save 8 different combinations of custom bets. You will be able to adjust the layout as well.
Players can also set the game to autoplay. This enables gamblers to choose several spins to be played out automatically. The number of spins can be anywhere between 2 and 25. Your bets will be set as you had them when you start the autoplay. Players can also choose a win amount to stop the feature at.
Conclusion
Roulette enthusiasts are going to fall in love with Multi Wheel Roulette Gold. This Microgaming title offers a thrilling experience. Indulge in outstanding graphics and realistic animations while trying out your look on all 8 wheels. This thrilling game has got our seal of approval.