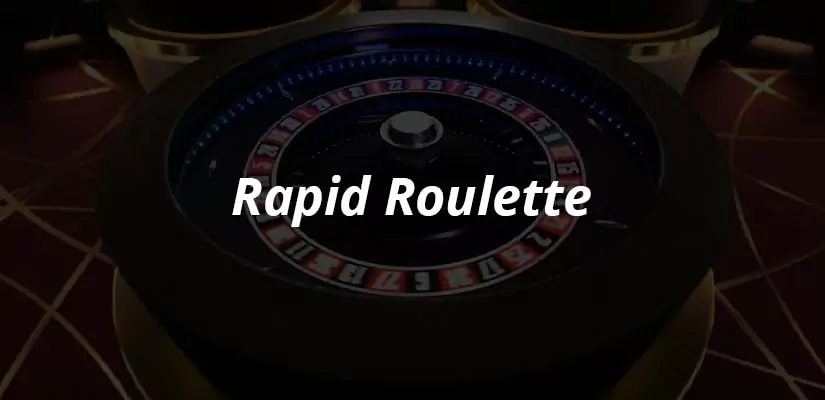 NetEnt has crafted another addition to its outstanding live roulette library. Rapid Roulette is a thrilling variation of this popular casino game. Based on European roulette, this is another single-zero format version with numbers up to 36.
One of the great things about Rapid Roulette by NetEnt is that players can access it not only through their desktops at home, but also from their mobile devices when out and about. The main characteristic about this title is that players only have a 25-second timeframe in which they may place their bets, hence the name Rapid Roulette.
Rapid Roulette Summary
Provider
NetEnt
RTP
97.30%
Minimum Bet
£0.50
Maximum Bet
£40,000
Deck Number
37
Wheels
1
Balls
1
Bets and Payouts of Rapid Roulette
Rapid Roulette is quite a simple game, but at a faster pace than most. It is the typical European layout in terms of rules and payouts. Players can place both inside and outside bets as well as betting via the racetrack.
For guessing a Straight Up bet successfully, one can expect a payout of 35:1, as is standard for this format of the game. A Split will bring players odds of 17:1, while a Street Bet will win you 11:1. For a successful Corner stake, players can indulge in odds of 8:1. The Double Street bet awards 5:1 if the odds are in your favour.
The Outside bets available are no different than other roulette variations of European style. Both Columns and Dozens will offer a payout of 2:1 if guessed correctly. Evens, Odds, Reds, Blacks, Highs, and Lows all give out even odds.
Additional Features of Rapid Roulette
Rapid Roulette is an exciting, fast variation of the popular online casino table game. NetEnt has gone and made the thrill of chance and luck even more exhilarating. Players can indulge in top-quality features and stunning, professional croupiers that are trained to deal with the rush of the game effortlessly and without mistakes.
The main feature of this game, the one that brings it its name, is that every round lasts 25 rounds. This allows for up to 80 spins an hour, which is quite impressive as it is half the time players have in every other NetEnt live roulette table.
Despite not being the leading live casino software provider, the UI technology used by NetEnt is quite impressive. Courtesy of this, players have access to multiple options for adjusting the game's settings to suit them.
There is a status bar at the top of the screen that will be green during the timeframe that one is allowed to place bets. It will start flickering when the round is coming to an end, letting players know they need to get a shufty on.
All of the important options are kept visible at all times, as one would expect in a rapid game of roulette. Players have the racetrack betting system available, the hit frequency, and the statistics are available on the screen, showing hot and cold numbers.
Gamblers will also have a live chat, so you can chat with other players. The game allows for a top view of the wheel as well, so you can observe how the ball rolls around and eventually lands in the pocket. When the ball has found its place, the winning number will be announced immediately, and the next round will begin.
Conclusion
If a bit of interactive gameplay with professional croupiers is your thing, you are going to fall in love with NetEnt's Rapid Roulette. There is also no time lost with this one, as each round is no more than 25 seconds. Players will be able to place bets anywhere between 50p and £40,000, so both recreational and professional gamblers will have a ball with this