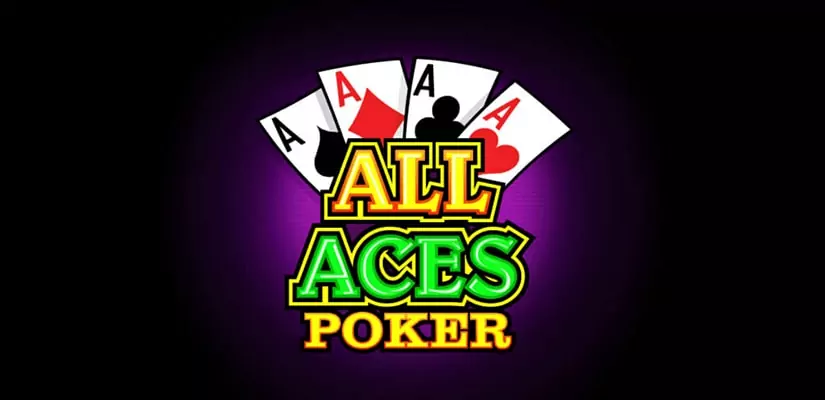 If you grow tired of Jacks or Better, All Aces Poker is a great way to liven up your video poker experience. It is quite similar in terms of gameplay. However, there are some bonus 4 of a Kind hands that make things more interesting.
All Aces Poker is a 1 hand variation with a very rewarding paytable if you play at the maximum bet level. The game is played with a deck of 52 cards, so there are no wild cards. There is a Double Feature that allows players to multiply their winnings.
All Aces Poker Summary
Software
Microgaming
Hands
1
RTP
99.92%
Minimum Bet
£0.25
Maximum Bet
£25
Minimum Jackpot
1 to 1 (Jacks or Better)
Maximum Jackpot
20,000 (Royal Flush)
Odds and RTP of All Aces Poker
All Aces Poker is a great variation of Jacks or Better with an impressive RTP of 99.92%. Other than the typical hands in video poker, All Aces has a few extra hand rankings that bring players rewarding payouts.
The highest payout in All Aces is the Royal Flush. Placing maximum bets will award you 20,000 coins for landing this hand. Otherwise, the hand pays 250 to 1. Players have odds of around 0.000026 for hitting this rewarding combination. The second-ranking hand is Quads of Aces which will win you 10,000 coins if you place the highest wager possible. If not, it actually pays more than the Royal Flush with a payout of 400 to 1. The odds of landing this hand are estimated at 0.000237.
Players also have specific payouts for 4 of a Kind of deuces through fours or 5s through Ks. The payouts for 2-4 Four of a Kind is 100 to 1, while 5-K offers a 50 to 1 payout. Odds for landing these kinds of hands are estimated 0.000542 for the former and 0.001631 for the latter. If you place the maximum bet, players have the potential win of 2,500 coins and 1,250 coins up for grabs.
Additional Features of All Aces Poker
Players that enjoy All Aces Poker will have access to a little feature called the Double Up Feature. This will be available after you have received a payout from a winning hand. When you land a winning combination, you will be presented with the chance to either collect or gamble your winnings. We like this feature, as it allows a player to make the most of not so great a hand.
Players that select to risk their winnings will be taken to a separate window. In this window, one card will be dealt to the dealer. The aim of the gamble feature is to get a card higher than the dealer. After the first card has been revealed, another four cards are dealt face down. Now, you must select one of these cards and hope that it has a higher value than that of the dealer.
If the card you select is indeed of higher value than that of the dealer, you double your winnings. And if you did not, you will lose your winnings. This feature can be used as many times as you want until you either reach the max payout or are left with no winnings.
We personally advise not to try your luck too many times, as it is possible for a high-value card to be dealt to the dealer. The best-case scenario in this event is that you either land an even higher value (if possible) or match the dealer's one. If you match the card, you will neither double nor lose your winnings.
Conclusion
All Aces Poker is a rewarding variation of video poker if you work out an appropriate strategy for landing those high hands. There is no background music, but there are sound effects which include the sound of cards flipping. We feel this gives the game an authentic feel about it, you could nearly think you were in a real casino.