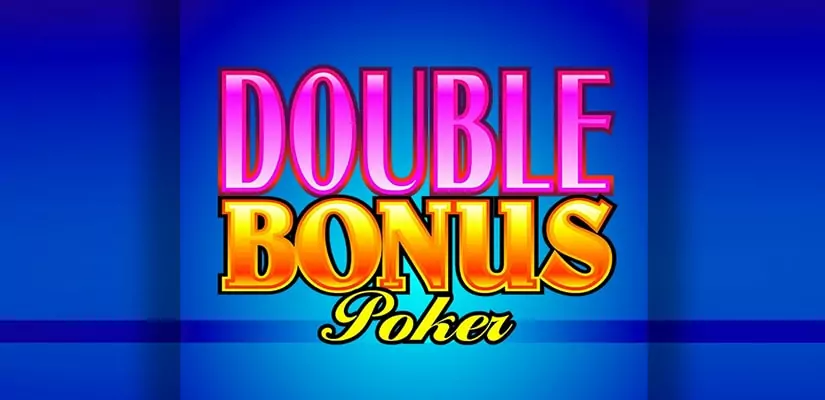 Another thrilling video poker variation by Microgaming. This one also boasts crisp graphics and engaging sound effects. Played with a 52-card deck, Double Bonus Poker has no wild cards and has pretty standard rules. The interesting thing about this one that grabs our attention is that certain winning combinations have been added to the paytable.
Double Bonus Poker is a single-hand game that has quite a lot to offer. More specifically, a maximum potential win of 4,000 coins. The betting range is standard and the RTP generous, set at 99.11%. Let us take a better look at the works of this version of Double Bonus Poker.
Double Bonus Poker Summary
Software
Microgaming
Hands
1
RTP
99.11%
Minimum Bet
£0.25
Maximum Bet
£25
Minimum Jackpot
1 to 1 (Jacks or Better)
Maximum Jackpot
4,000 coins (Royal Flush)
Odds and RTP of Double Bonus Poker
Double Bonus Poker is a thrilling video poker variation with a rewarding RTP of 99.11%. The highest-paying hand is the Royal Flush, which awards 4,000 coins if you play with max bets. However, if you play on the lower betting levels, the payout is 250 to 1.
Next in line is 4 of a Kind of Aces. Players can expect a payout of 160 to 1 for this hand. Quads made of deuces through fours will award 80 to 1. If you made Quads of 5s through Ks, you win 50 to 1. The Straight Flush also awards a payout of 50 to 1.
The lowest-ranking hand is Jacks or Better that has even odds, as does a Two Pair. For 3 of a Kind, you will receive a payout of 3 to 1. If your hand is a Straight, you can expect a reward of 5 to 1, and if it is a Flush, 7 to 1. Finally, the Full House awards 9 to 1.
As you may have noticed, only the payout of the Royal Flush increases when you place the maximum bet. Players can adjust their bets by increasing or decreasing the bet level and coin value using the buttons at the bottom centre of the screen.
Additional Features of Double Bonus Poker
A potentially rewarding addition to Microgaming's Double Bonus Poker is the Double Feature. This attribute allows players the potential of reaping massive rewards for even the lowest of winning combinations. It is a typical pick a card double up bonus that both novice and professional players alike can try their luck out on.
This feature is available after every winning hand you land during the game. When you have a hand that pays, you will be presented with the option of claiming your reward or risking it for the chance of winning double the amount. If you choose this option, you will be brought to a separate window with a mini-game.
When you are taken to the new window, you will see 5 cards drawn on the table. One will be dealt face up. This will be the dealer's card, while the remaining four will be dealt facing down. The aim of the game is to select one of the four cards and hope that it will have a higher value than that of the dealer's one.
In the event that the card did not have a higher value than the dealer's, players will lose their winnings. However, if you did manage to guess right, you will walk away with twice the amount you started with. Or, you can opt to gamble again. Players can repeat this until they reach the gamble limit.
Conclusion
Double Bonus Poker is another great addition to the collection of Microgaming titles. It has an excellent theoretical payout percentage and a rewarding paytable if you play your cards right. As expected from Microgaming, the graphics and animations of this game are outstanding, guaranteeing players enjoy their time at the table.