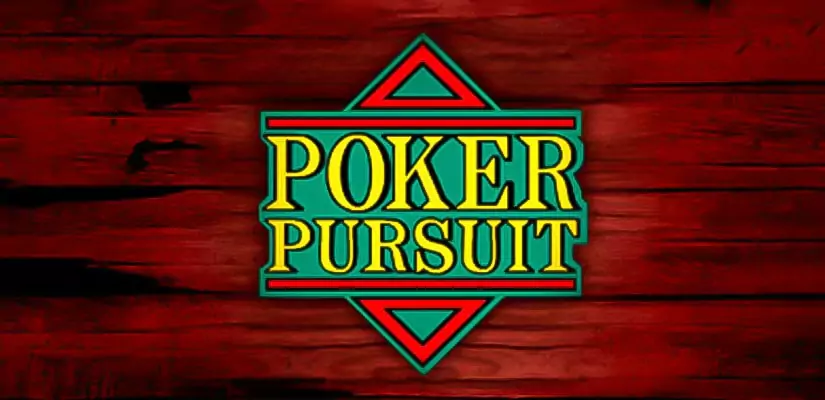 The online gambling world is packed full of fantastic video poker titles, and this one from Microgaming is no different. Poker Pursuit is a thrilling take on the game that brings the thrill of traditional casino poker into the mix.
Poker Pursuit is played with a single deck of 52 cards. Players are dealt one hand, but not all in one go. We will get to the mechanics further on. The game is to be played with strategic betting that is based on the cards you have been dealt. Without further ado, let us get to the intriguing aspects of this variation of video poker.
Poker Pursuit Summary
Software
Microgaming
Hands
1
RTP
97.09%
Minimum Bet
£0.50
Maximum Bet
£6
Minimum Jackpot
2 to 1 (10s or Better)
Maximum Jackpot
3,000 coins (Royal Flush)
Bets and Payouts of Jacks or Poker Pursuit
Poker Pursuit has an interesting betting system. First, you place your bets, then if you raise on the next 2 opportunities that arise, your betting level goes up, allowing players to reap bigger rewards. You can place bets of £0.50, £1, or £2. If you raise your wager, you can make up to triple the initial bet. The game has an RTP of 97.09%, giving you a fair chance to win some bountiful rewards.
The lowest-ranking hand in this variation is Tens or Better. A great aspect about this game is that this hand does not merely offer what you have wagered as a reward, but it actually pays out 2 to 1. Next in line is the Two Pair. This hand pays out 3 to 1. For Three of a Kind, players can expect a reward of 4 to 1.
If your hand consists of a Straight, you will bask in a payout of 6 to 1, while the Flush rewards 9 to 1. Players that are lucky enough to land a Full House will receive 12 to 1. For 4 of a Kind, you can win 50 to 1 as the reward. A Straight Flush is going to get you 200 to 1. And finally, the most rewarding of all the hands. The Royal Flush awards 1000 to 1.
Additional Features of Poker Pursuit
Poker Pursuit does not have any Wild Cards in the deck. Nor does it have the double up gamble feature that many video poker variants of Microgaming do. So, you may be asking what is so interesting about this version. The interesting part about this game is the actual gameplay. In this variant, players do not choose which cards to keep to receive new ones. Rather, you will receive your cards in staged and choose your strategy accordingly.
In Poker Pursuit, players place their initial bets before the deal. As we mentioned above, wagers can vary between £0.50 and £2. After you have adjusted your stake, you press deal. Now, you will only receive the first 3 cards of your hand, just like casino poker.
At this point, players have a choice. They can either raise or call. Call in this game is just like checking in poker, so you leave your bet as it is. If you raise, the initial amount staked is doubled, as are the rewards you will reap if you land a good hand. After you have made your decision, another card will be revealed on the table.
Now, you will be presented with the same options. You will be able to either raise or call. This point is crucial in the game, as you are placing your bets on your current 4 cards. The last card will be the deciding factor for the outcome of the game. After you make your choice, the fifth and final card will be revealed on the table. Depending on the hand you have formed, you will either lose your wager or reap the rewards.
Conclusion
Poker Pursuit is a great way for video poker players to apply strategic betting to the game. Unlike the typical variants, players are not holding and discarding hands, but rather betting on different stages of the deal. Once you get the hang of it, the gameplay is quite simple, and players have the opportunity to bag bountiful rewards if played right.