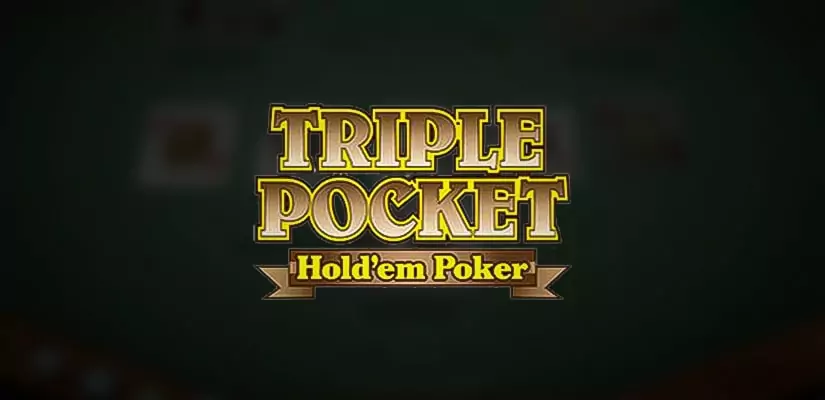 Triple Pocket Hold'em Poker is a great title brought to players by Microgaming. This one bears great resemblance to a well-known casino game – Texas Hold'em. Now, you may be wondering where the "triple pocket" comes from. Players have to beat not one dealer, but two of them. That may sound a little intimidating, but it makes the gameplay all the more exciting.
The game is played with a deck of 52 cards, so there are no Wild Cards in there. Players will notice that this one would be a classic poker game if it was not for the lack of decision making. The simplistic style of Triple Pocket Hold'em Poker and the crisp graphics offer a great player experience.
Triple Pocket Hold'em Poker Summary
Software
Microgaming
Hands
4
RTP
99.14%
Minimum Bet
£1
Maximum Bet
£100
Minimum Jackpot
1 to 1 (Tens or Better)
Maximum Jackpot
4,000 coins (Royal Flush)
Odds and RTP of Tens or Triple Pocket Hold'em Poker
Players that decide to try out the intriguing Triple Pocket Hold'em Poker variation by Microgaming will enjoy a rewarding RTP of 97.74%. The payout table differs greatly from those of other video poker variations, allowing for a unique player experience. Let us take a look at the rewards up for grabs in this innovative, diverse title.
First things first, the low-ranking hands. Those would be High Card, Pair, Two Pair, 3 of a Kind, and a Straight. The payout for any of these hands is not overly attractive, as they all offer one and the same – 1 to 1. This means that if a player lands any of these, all they will receive is not losing their wagered amount.
Things start getting rewarding from the Flush onwards, as this hand offers 2 to 1. For a Full House, players can expect 4 to 1. Four of a Kind rewards players with 10 to 1, while a Straight Flush offers 20 to 1. And finally, players will be awarded 50 to 1.
Additional Features of Triple Pocket Hold'em Poker
Triple Pocket Hold'em Poker has an intriguing layout in terms of gameplay. The deal is this – players must first make an ante bet. Then, the initial pocket cards will be dealt. First, you will receive 2 cards. Before the game continues, you will be presented with a choice. Players are allowed to discard their hand, if they are unimpressed by it, or they can opt to keep them if they look promising.
Now, here is where things get interesting. If you choose to discard the pair you have been given, they are not returned to the deck. Rather, they go to the dealer's side of the table and become their first hand. After this, you will be dealt another two cards. Again, if you do not like them, you may opt to pass them on to the dealer's second hand.
At this point, you will be dealt yet another two cards. If you do not like them this time, that is just unfortunate, because there are no more empty spaces to push your unwanted cards. This is the hand you are stuck with. That is why it is of the utmost importance to be completely sure you do not want the pocket cards you were dealt before passing them onto the dealer.
After everyone has had cards distributed among them, now it is time to find out what the outcome is. Now, another bet is placed, and the 5 community cards will be dealt in the centre of the table. Depending on what has landed, you will either receive a payout or lose to the dealers two hands.
Conclusion
Triple Pocket Hold'em Poker certainly is a riveting game. The fact that you are playing against two dealer's hands is thrilling. Even more so because you can designate your unwanted cards to one or both of the opposing hands. Another great thing about this Microgaming title is the outstanding graphics and realistic animations that help bring an authentic feel to the table.